As the holiday season rolls around, it's time for budding and professional photographers alike to prepare their shot list for capturing this festive period. It's a unique opportunity to document all the special people in your life, as well as the magical light, cosiness and element of surprise that Christmas always brings. While 2020 might not feel quite the same as previous years, with travel restrictions preventing some families from coming together, the importance of capturing and sharing the season is more important than ever. 
So rather than leave it all to chance, we've put together some of our top tips for photographing the holiday season and showcasing your images in a Christmas photo album. 
1. Know your camera
The first and most important tip is to understand your camera, its functions and what it's capable of. You don't want to miss documenting the surprise of someone opening their gift or the moment the turkey is laid on the table because you're busy messing around with camera settings.
Whether you're shooting with a DSLR, a compact camera or your smartphone, do some practice as the holiday season approaches so that you're ready to capture memorable shots. That might mean understanding your DSLR's manual settings (ISO, shutter speed and aperture) or knowing how to zoom in with your compact camera. Or perhaps it's just knowing what filters you can apply with your smartphone to achieve the finished result you want.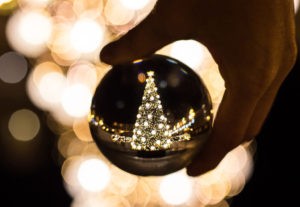 2. Capture the lights
One of the most special things about the holiday season is the twinkling lights that transform homes and public spaces into magical scenes. But they can be difficult to do justice with a still image, particularly if you're prone to using a built-in flash. Not only does the flash often create photos with harsh shadows but they often feel flat and unnatural looking.
Spend some time trying to capture the whimsical nature of the holiday season lights by using the Night mode on your camera or by playing around with the manual settings on your DSLR. Perhaps it's photographing the light illuminating your fireplace or the baubles on your Christmas tree – figure out what settings work best to get the results you want. In some low-light situations, you may need to use a tripod to help stabilise your camera and prevent any unwanted "shake" in your images.
3. Document the cosiness
In the Northern Hemisphere, the holiday season is all about getting rugged up and embracing the cold weather. That might mean being snuggled up beside the fire with a mug of hot chocolate or opening presents in bed while still underneath the blankets.
With the shorter days, some of the best holiday season photos can be taken inside in the comfort of your own home. To capture the cosiness of the moment, avoid any harsh overhead lights in favour of an atmospheric lamp or the illumination from your Christmas tree. With this soft "glow", you can document up-close reactions or take a few steps back to capture the enchanting lounge room scene on Christmas morning.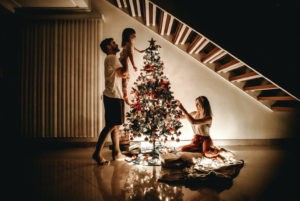 4. Shoot candid moments
If you love capturing candid moments, then the holiday season is a treat. It's filled with catchups as you connect with people you haven't seen for ages and the surprise of opening gifts. But so many of these moments happen in just a split-second, so being prepared with your camera at the ready is essential.
Worried about missing that precise moment of joy? You can put your camera into "burst" mode, which means it will take a rapid succession of images as you hold the shutter release down. You'll end up with multiple images taken fractions of a second apart so you can find the one that perfectly captures the moment.
5. Shift your perspective
Some of the most interesting photos are the ones that offer a completely different perspective on a scene from what our eyes observe. It might be half your Christmas tree juxtaposed against the fireplace or a close-up shot of a present's bow…or maybe it's a window framing a scene outside. Perhaps you get down low to observe the world from your child's perspective or find an elevated position for a bird's eye view.
Look for unique angles and perspectives throughout the holiday season to add intrigue to your collection. The more you practice, the better you'll get at figuring out which shots work and which ones don't.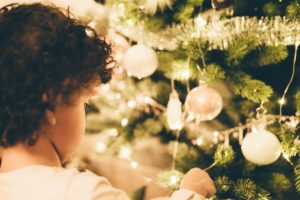 6. Embrace the outdoors
While it might be cold outside, this is all part of the holiday season atmosphere and something to embrace. Perhaps you have some time off work to embark on an adventure with your family or maybe it's just as simple as going into the backyard to make a snowman. So grab your woolly sweaters, beanies and gloves and head outdoors with your camera.
When shooting in snow, it's best to avoid directing your camera into the sunlight as this can wash out any colours. Instead, try to incorporate a darker object into the scene to create contrast or shoot in cloudy conditions when there's beautiful dispersed light. Remember, if you plan on taking photos in the rain, ensure your camera is adequately protected to avoid water seeping in and causing internal corrosion.
7. Capture the togetherness
The holiday season is all about spending time with family and connecting with old friends. So don't forget to put yourself in the frame occasionally, surrounded by the ones you love. If you can't get everyone together due to travel restrictions, why not get creative by incorporating people digitally and capture that feeling of togetherness. 
Group photos are where the self-timer on your camera is invaluable, ensuring nobody gets left out. Simply position your camera an adequate distance from the group, select the amount of time you need to get into position and let it work its magic. Some cameras will allow you to take multiple images using the self-timer, which means you can take classic portraits and more playful outtakes in the one go. While posed group portraits might not be the most artistic shots you capture during the holiday season, they'll probably be some of your favourites!

8. Tell the story in a handcrafted photo album
As you're capturing photos throughout the holiday season, try and tell a story that can be shared with family and friends in a custom photo album. You can incorporate the magical settings and people that made the 2020 holiday season what it was, as well as the shared meals, laughter and tears that went along with it. Creating a Holiday photo book is a beautiful way to celebrate this special time of the year and can even be gifted to your loved ones for birthdays or anniversaries.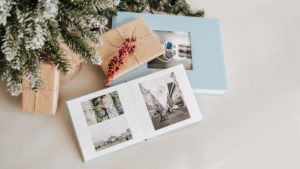 Looking for an online photo book maker? The team at PikPerfect can help transform your holiday memories into a beautifully crafted photo album that will last a lifetime. 
If you're looking for holiday photo book gift inspiration, check out our Thoughtful Christmas Gifts 2021 blog!