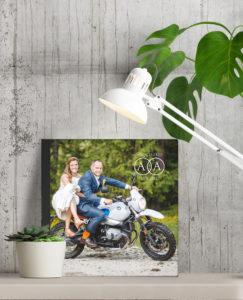 There's nothing more satisfying than seeing one of our custom-designed wedding albums filled with gorgeous photos from a couple's special day. Each month, we select our favourite album to help inspire you in collecting, preserving and sharing your own celebrations, milestones and experiences.
This month, we wanted to share some of the memories and moments from Aline and Andreas' wedding in the magnificent South Tyrol region of northern Italy. Following their open-air wedding ceremony at the Gothic-style Schloss Prösels, they partied into the early hours during a lively reception at the Edelweißhütte in Colfosco.
This wedding album truly brings their day to life – from getting ready snaps as the couple made their final preparations to sweeping portraits backed by Schlern mountain and all the action of the photo booth. It combines double-page spreads with miniature photos of all the moments that were captured throughout the day, including plenty of candids as Aline and Andreas celebrated their wedding with their closest family and friends.
All of the photos in this wedding album were taken by the talented Feldthurns-based photographer, Domenikus Gruber, who beautifully captured the couple's energy and love for another…and their shared love of motorcycles!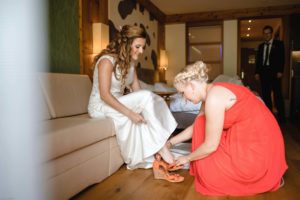 The Venue
The ceremony took place in Schloss Prösels in Völs am Schlern while the reception was held in Colfosco at the Edelweißhütte. The reason for getting married in South Tyrol was that we spent our first holiday together in Völs am Schlern seven years ago. It was a motorcycle holiday, as we originally met during a motor racing event at a racetrack. This shared passion will always connect us and was also the reason for a motorbike as a companion at our wedding.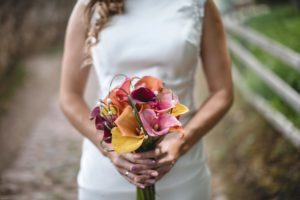 A splash of colour and quirkiness!
We chose to add a splash of colour because we simply like life being a little bit crazy and colourful. Orange is a happy and energetic colour…just the way we are!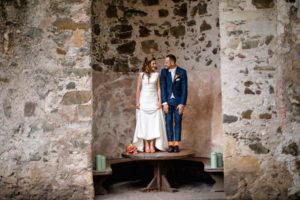 The Party
The weather was so marvellous that all of our guests got sunburnt during the 30-minute open-air wedding ceremony. This also resulted in a lot of thirsty people, which led to a wicked party until sunrise the following morning (many guests needed help finding the way to their hotel rooms). During the reception, we performed a "Pulp Fiction" bridal dance, which created a great atmosphere.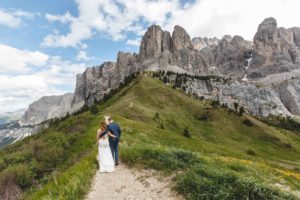 The Wedding Album
It was the most beautiful wedding for us and is forever captured in this beautiful album. THANK YOU for the super-fast and friendly service, which we can only recommend to others!
Please note: All of the responses were translated from their original German.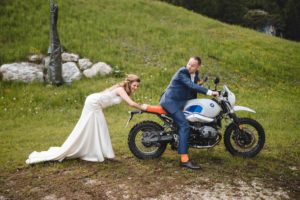 You can view Aline and Andreas' wedding album in its entirety here.
NB: All images are subject to copyright