What is the difference between a photo book and a photo album, and which one is right for you?
We've created an easy to understand album guide to help you select the book that tells your story the way it's meant to be told. If you are unsure of which album to select, our designers will be happy to recommend one for you based on your photographs.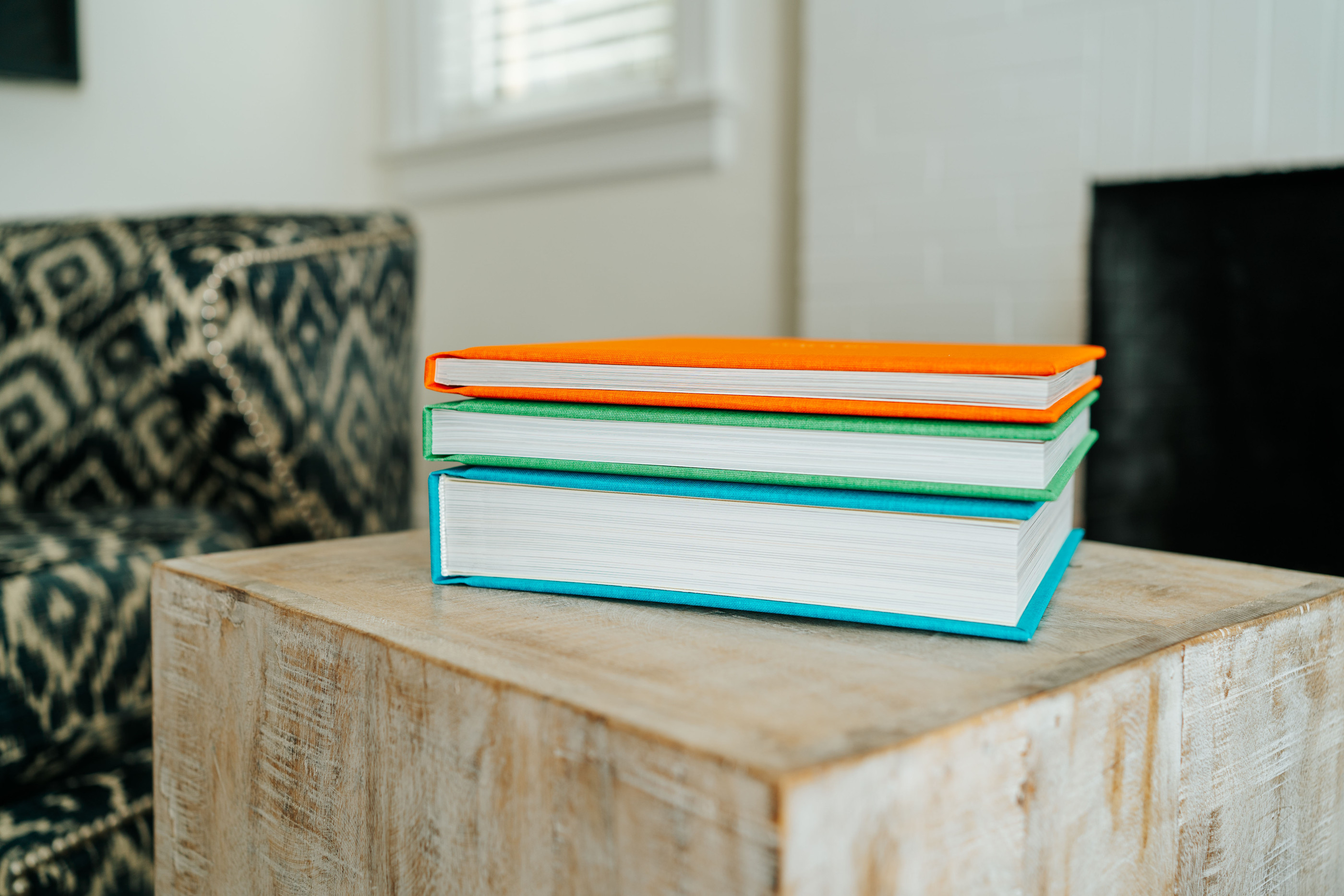 Photobook (72 pages)
Layflat Photo Album (72 pages)
Premium Album (72 pages)
The same 72 pages printed as a Photobook, Layflat Photo Album and Premium Layflat Album
What is a Photo Book?
A photo book is digitally printed on flexible pages and is glue bound like a traditional book. Photo book pages do not lay flat when open: there is a gutter between the two pages on a spread, so if a photo crosses over two pages you can lose a bit in the gutter. Photo books are sturdy, can accommodate up to 300 pages and make for the ideal coffee table photo book.
What is a Layflat Photo Album?
Printed in High Definition on sustainable photo book papers, our layflat books are bound using one continuous sheet of paper for each double page, creating gorgeous panoramic spreads. Their pages are thicker and stiffer than a photo book, but not as thick or rigid as a premium layflat album. The uninterrupted spreads make lay flat photo albums ideal for weddings or other special occasions.
What is a Premium Layflat Photo Album?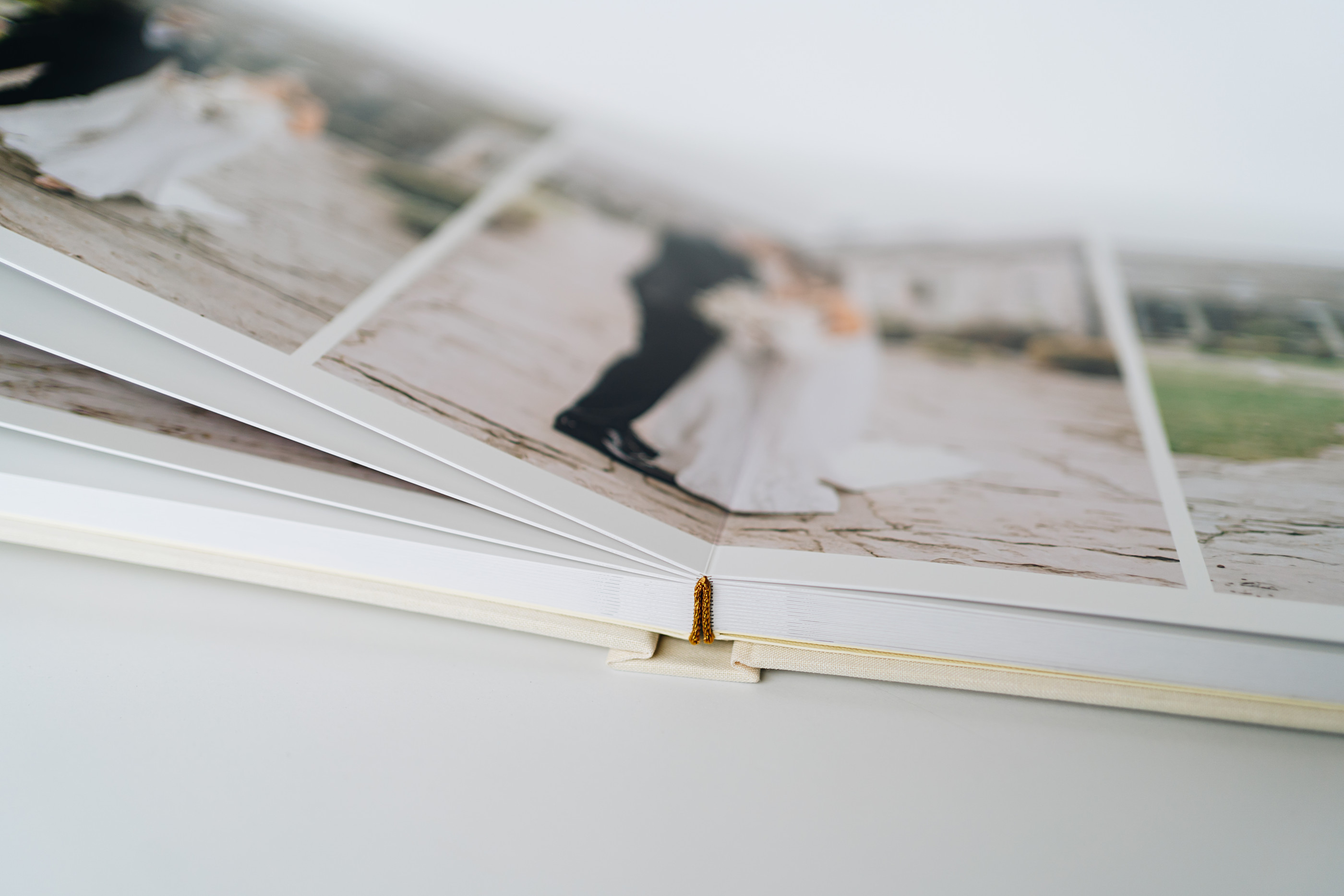 Developed on professional grade Fujicolor Crystal Archive DPII paper, premium layflat albums (also called flush mount albums) have thick layflat pages and come with a range of premium cover options and photo album presentation boxes. The spreads in these high-end photo albums are hand mounted on a white cardboard substrate which make the layflat pages sturdy and extra thick. If you're looking for an album that is made to last a lifetime, these heirloom quality photo albums would be the perfect choice.
Compare our Range
Photo Books

Our Everyday Classic

From

Learn more

Layflat Photo Album

Our Bestseller

From

Learn more
Premium Album
(Flush Mount Album)

Our Luxury Line

From

Learn more
Paper
Flexible book pages 200 gsm (do not lay flat)
Semi-stiff lay flat pages (about 370 gsm)
Thick, rigid layflat pages (1.1mm/0.04 inches thick)
Print
HD Fuji Inkjet print
HD Fuji Inkjet print + matte/gloss finish
Developed Professional Fuji Crystal Archive DP II Paper
Page Count
300 pages
120 pages
80 pages
Number of Photos
Up to 1,000
Up to 450
Up to 300
Cover Material
Photo, Linen or Vegan Leather
Photo, Linen or Vegan Leather
Photo, Linen, Vegan or Genuine Leather
Cover Addons
Acrylic Glass or Cameo Window available
Title Customization
Standard Text Embossing, Laser Etching or UV Print (included, depending on fabric)
Presentation Box
Black wooden box
Black wooden box
Premium wooden box with fabric wrapping of your choice
Compare our Range
Photo Books

Our Everyday Classic

From CHF 34.90

Learn more
Paper
Flexible book pages 170-250 gsm (do not lay flat)
Print
HP Indigo digital print
Page Count
300 pages
Number of Photos
Up to 1,000
Cover Material
Photo, Linen or Vegan Leather
Cover Addons
Title Customization
Standard text embossing (included), Custom logo embossing or Laser Etching
Presentation Box
Sturdy black cardboard box
Layflat Photo Album

Our Bestseller

From CHF 74.90

Learn more
Paper
Semi-stiff lay flat pages (similar to two photo prints stuck back-to-back)
Print
Developed Fuji Album Paper
Page Count
120 pages
Number of Photos
Up to 450
Cover Material
Photo, Linen or Vegan Leather
Cover Addons
Title Customization
Standard text embossing (included), Custom logo embossing or Laser Etching
Presentation Box
Sturdy black cardboard box
Premium Album
(Flush Mount Album)

Our Luxury Line

From CHF 199.00

Learn more
Paper
Thick, rigid layflat pages (1.1mm/0.04 inches thick)
Print
Developed Professional Fuji Crystal Archive DP II Paper
Page Count
76 pages
Number of Photos
Up to 300
Cover Material
Photo, Linen, Vegan or Genuine Leather
Cover Addons
Acrylic Glass or Cameo Window available
Title Customization
Standard text embossing (included), Custom logo embossing or Laser Etching
Presentation Box
Premium wooden box with fabric wrapping of your choice