The experience of bringing a child into the world is life-changing, regardless of whether you are an experienced parent or just getting started on this beautiful journey. With every milestone your baby reaches, it's as if time flies by at an astounding rate, from that first smile to those tentative first steps. Your once-babbling infant soon transforms into a little explorer. Amidst this whirlwind of parenthood, it's only natural to want to savor those magical moments for years to come.
In this blog post, we'll explore 10 of our most favorite ideas for preserving those fleeting, yet forever-cherished memories, from traditional keepsakes like baby memory books to creative options such as crawl painting.
1. Keepsake Baby Memory Book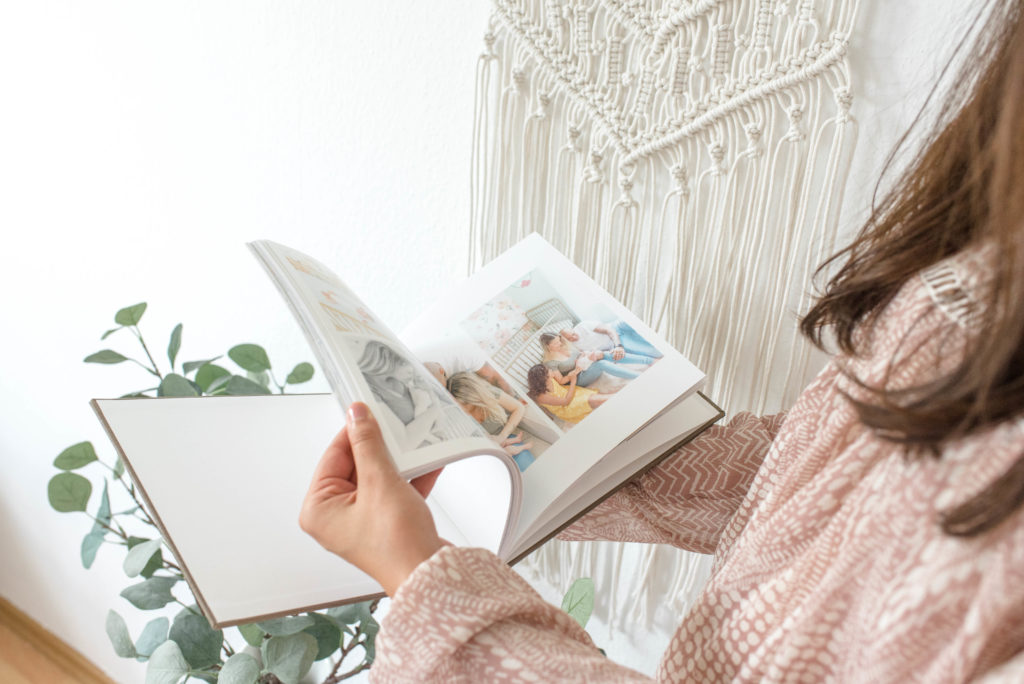 A baby memory book is a classic and timeless way to document your baby's journey to toddlerhood. When choosing a baby book, choose a high-quality book that ensures that your memories stay intact for years to come. Decide on a theme or style for your book. This could be classic, minimalistic, colorful or something that is unique to your family. Or, check out some of our favorite photo book design ideas for some inspiration.
When selecting photos to include in your baby book, try to capture shots of all of their firsts – first crawl, first step, first tooth, and first birthday. Another idea is to create keepsake pages that include photos of your baby's birth certificate, their hospital wristband, the announcement of their birth, or even the invitations you created for their first birthday party. You could also include captions and/or personal anecdotes that add depth or emotion to the book, or just let the photos tell the story.
If you're overwhelmed by the number of photos you have, or just wondering where to start, read our 9 suggestions on what type of photos to include in your baby photo book.
2. Luxurious Layflat Baby Photo Album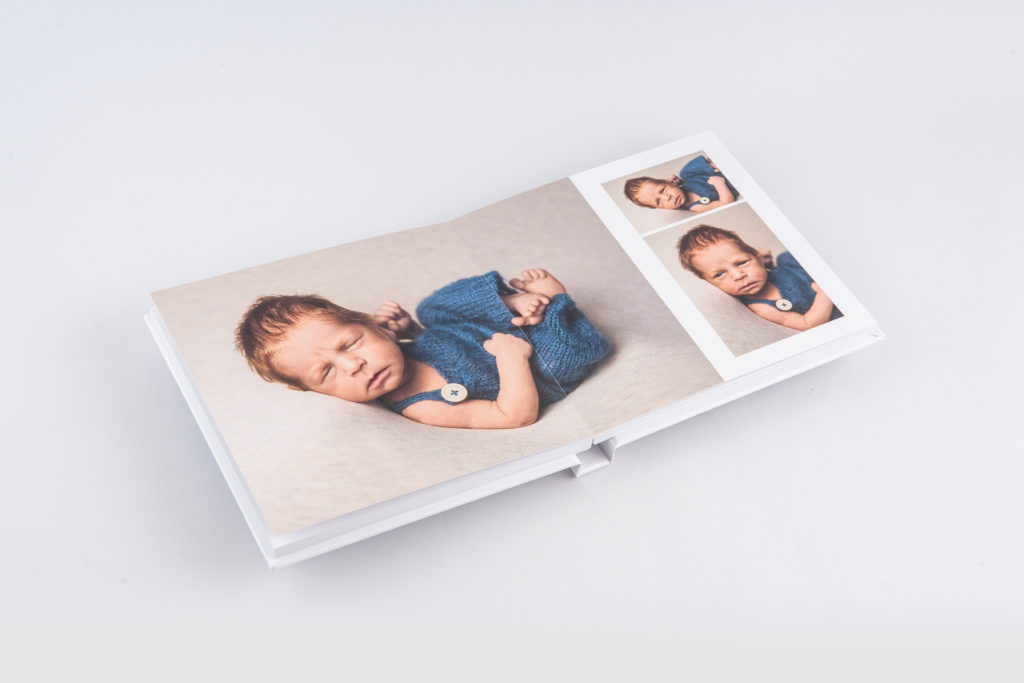 If you're after a more luxurious take on a baby photo book, you can opt for a sophisticated layflat album with pages that lie completely flat. These are a great option if you have images of your baby that you want to highlight across a panoramic two-page spread, without anything getting "lost" in the fold. Layflat albums also typically offer better print resolution and enhanced brilliance due to the premium nature of these albums.
These visually stunning layflat baby photo albums also make the perfect coffee table centrepiece that friends and family will love admiring when they come around.
Also read: 10 Baby Book Covers To Inspire Yours.
3. Mom and Baby Journal
Rather than collecting mementos, a first-time mum journal is more about collecting thoughts and feelings during what can often be a tumultuous time in a woman's life. You can either grab a blank notebook and start from scratch or purchase a specifically designed first-time mum journal complete with charts, trackers and guided entries. It's designed so that you can record your baby's daily progress, sleep schedules and eating habits, as well as reflect on how the experience is impacting you.
4. Professional Newborn Photoshoot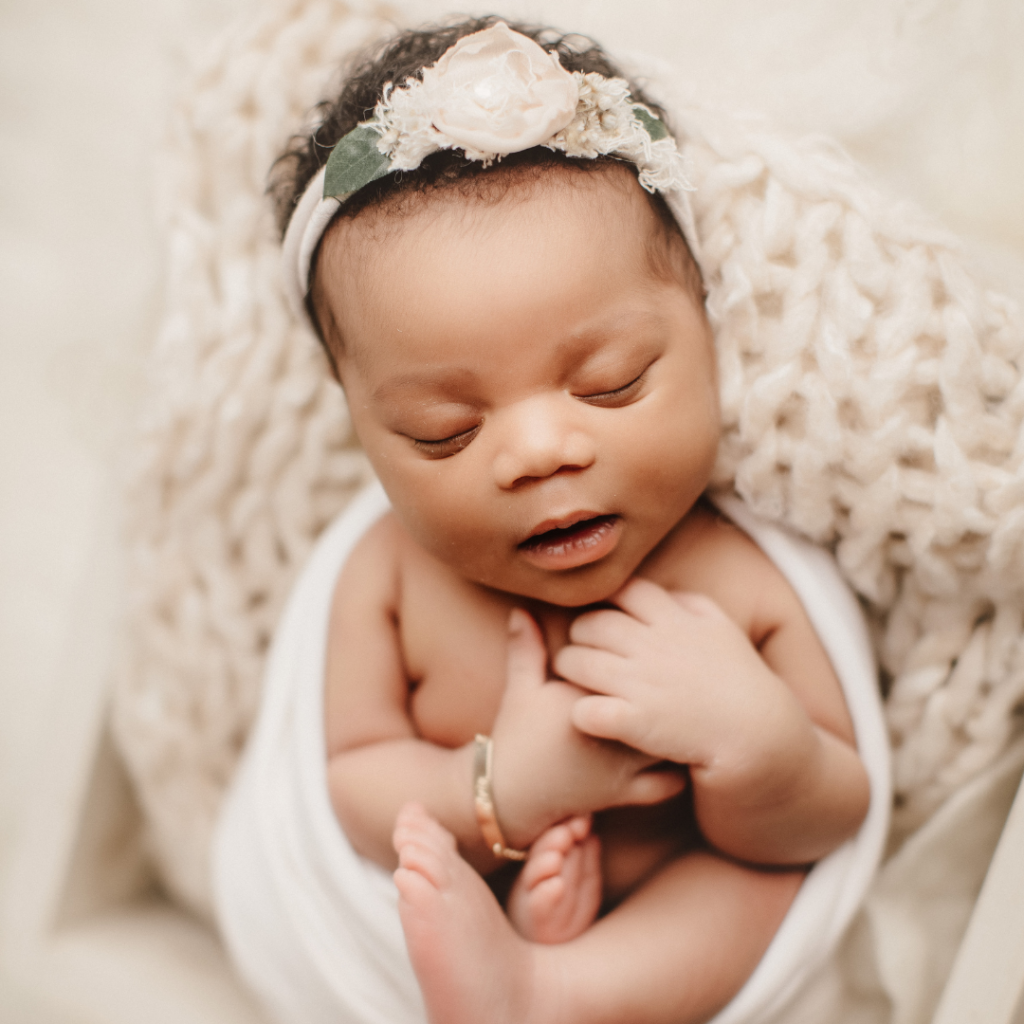 While we all have cameras on our phones for capturing endless images of our babies, there is nothing quite like the quality of a professional shoot. Newborn photo shoots are particularly popular as they document all of your baby's tininess with adorable results. You can opt for a studio session with your baby bundled up in cosy wraps or hire a professional lifestyle photographer to capture you at home with your new bub. The best time to book a newborn photo shoot is 7 to 10 days after birth while your baby is still tiny and spending much of its time sleeping. Look for a professional photographer who has taken a newborn handling course for extra peace of mind.
For more help on planning a stress-free session, read our 8 planning tips for a picture-perfect photoshoot.
5. Crawl Painting
It might be the messiest option on our list, but a crawl painting is a super fun way to preserve the memories of your baby's first movements. It does require a bit of planning but you'll end up with an abstract masterpiece that will enjoy pride of place in the family home. All you need to do is buy large canvas rolls (without any framing in place) that you can tape together to cover a large surface, as well as non-toxic, non-allergic, washable paint. Then, simply pour a few different colors onto the canvas and give your baby free rein to crawl around as they please, creating a trail of movement as they go. This is definitely one activity that needs close supervision, however, as you don't want your baby touching their mouth with the paint. If that sounds like too much supervision, you can also make your own edible paint from food color and flour.
6. Baby Handprints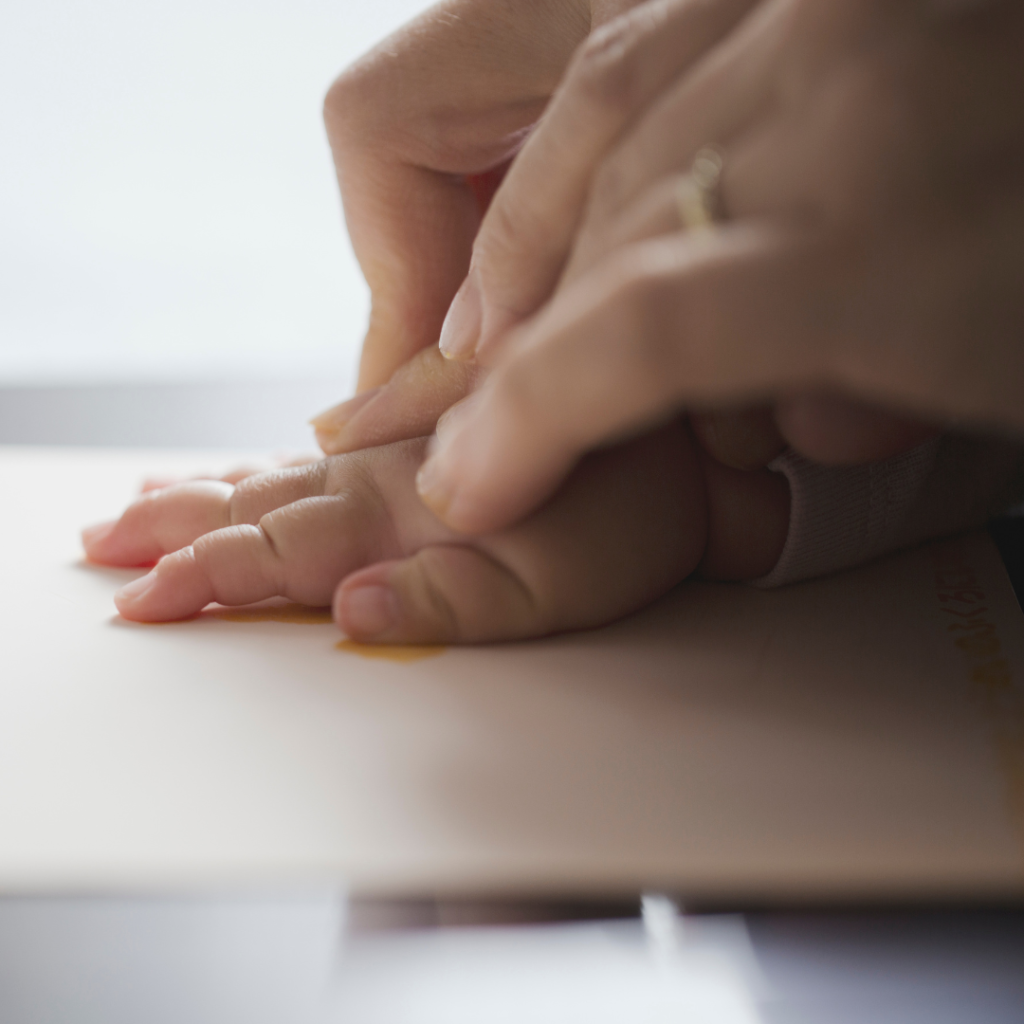 One of the fascinations with babies is how tiny they are and this is exemplified in their hands and feet. Taking handprints is a great way of preserving this "smallness" while also creating a work of art for the home. But it's not as simple as it looks, as babies tend to naturally clench their fists. We recommend purchasing an inkless print kit that is non-toxic and designed for use with babies, as they are much less messy than going it alone with an ink pad and paper. Secondly, always do a few practice runs of laying your baby's hand flat first before you attempt to do so with your inkless wipe and paper. Use two hands to spread your baby's hand out flat and press it down firmly.
7. Baby Foot Cast
Using plaster moulding to take a cast of your baby's feet is another great way to preserve their tininess and, again, there are plenty of kits on the market that make the job a breeze. They come with everything you need, including alginate powder, a moulding cup and plaster. Simply mix the alginate powder with water and place your baby's foot into the cup (this is best done when they are asleep or drowsy). Then wait until the alginate begins to set (this should only take around 30 seconds) and remove your baby's foot from the cup. Now, mix the plaster and pour it into the mould and wait for it to set (around an hour). It can then be removed from the mould and you have a perfect cast of your baby's foot!
8. Baby Memory Quilt
As your baby grows out of their newborn rompers, you'll probably end up with a mountain of clothes taking up space. If you're planning on conceiving again, you can store them away, or consider donating them to a charity to help other mothers in need. Chances are, however, there are going to be a few favourite pieces of clothing that you just can't part with and these are ideally transformed into a baby memory quilt. If you're already a sewer, then you have an advantage, but it is also an easy project for first-timers…and a great excuse to learn a new skill! You'll find plenty of videos and tutorials for beginners online and when winter rolls around, you'll have a cosy quilt to keep you and your baby warm.
9. First Year Video Montage
Creating a video montage of your baby's first year is a heartfelt way to capture and preserve the special moments that occur during this incredible time. A captivating montage consisting of candid photos and videos of your baby's milestones and those ever-so-cute moments, set to a suitable soundtrack that complements the video's tone and evokes emotions, not only makes for a memorable keepsake but is also great for sharing with friends and family on your baby's first birthday.
And while creating a video might sound daunting, it is fairly easy given the number of video editing software available, many of them offered for free for limited usage. Some popular options include iMovie, Adobe Premiere Pro, Kapwing, Clipchamp or Canva.
If you need inspiration on what photos to include in your video montage, check out our 15 must-have photos to capture in baby's first year.
10. Baby Memory Box
A baby keepsake box is an ideal place to store all of those treasured items that you accumulate during your baby's first year of life, such as locks of hair, baby gifts, cards from family and friends and a swatch from your hospital receiving blanket. A baby keepsake box is also perfect for keeping safe all of those items that you want to include in your baby book but just haven't got around to doing yet. If you're into DIY, you can make your own keepsake box with personalised details or just purchase one that's ready to go.
---
Happiness Guarantee
Use our happiness guarantee and pay nothing upfront, while our designers create the most adorable baby book.
Just follow these 3 steps:
Upload your photos and share your vision of the album (or let our experts recommend options). We can also help select the best images, so send as many as you want.
You'll receive an online draft of the album to review in 2-4 work days. All designs include unlimited free revisions, so you can be sure you're completely satisfied before the album is sent to print.
After you've approved the photo album design and payment has been received, the album is professionally printed, carefully packaged and shipped right to your door.
Get started here: Photo Album Design Service