Once the confetti has settled and your gown has been put away, it's the images of your wedding day that will bring it to life again and again. So creating the perfect wedding album isn't something that should be taken lightly but given careful thought and preparation.
Whether you want to be completely in control of creating a customised wedding album or prefer to leave the hard work to the professionals, here are 9 of our top tips for designing your dream memento.
1. Select your favourite images
Perhaps the hardest part of designing a wedding album is selecting the images you want to include and whittling down your choice of hundreds (or maybe even thousands) to just the highlights. The number of photos you can include will depend largely on the album type you select, as well as how you want the end layout to look.
Rather than selecting images you think should go into the album, select those that are your absolute favourites and you couldn't imagine leaving out. Think about shots that capture exactly what you were feeling or a fleeting moment that can never be re-lived.
Gone are the days when a wedding album had to be composed of formal portraits of everyone looking at the camera, with the freedom to be creative with your choices and select from the heart. If you're still struggling to decide, you can take advantage of PikPerfect's optional Photo Selection Service to help choose the moments that mean the most.
While you're browsing through your images, be sure to check the quality of each and the brightness, as dark images (or those of poor quality) will appear that way when printed. Our top tip is to try lowering the screen of your device to around 50% to give you an idea of how a photo will appear once printed. At PikPerfect, we'll also share our professional feedback if a selected photo doesn't meet certain standards to ensure only the best end up in your finished album.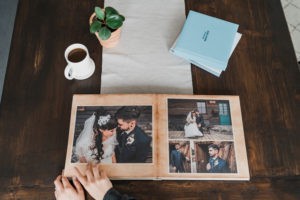 2. Select your wedding album style
Wedding albums come in a wide variety of styles, from 200+ page photo books to luxuriously crafted wedding albums on thick, layflat pages. The style that's right for you will depend not only on your budget and the number of photos you want to display but also your preferred aesthetic. You can opt for professional-grade fine art paper or acid-free and archival photo paper that will stand the test of time.
If you're not sure, why not browse the range of wedding albums available at PikPerfect and some of our most popular styles.
3. Choose your cover
Aside from the style of your wedding album, you also need to select a cover, whether it be an elegant linen cover, a genuine leather cover or a printed cover with an image of your choice. Most couples will select a wedding album that complements the style of their wedding or is in keeping with the decor of where it will be displayed in their home. When it comes to titles and text, you can choose between a variety of different texts and embossing colours to create a gorgeous cover that's uniquely yours.
4. Select your level of customisation
Some couples want to be really hands-on in crafting a completely unique and customised wedding album while others prefer the simplicity of working with a simple template that still gives them the option to add in a few tweaks prior to their wedding album printing. Piktology is the destination to head if you want complete control over the end result, with the assistance of skilled wedding album designers along the way. If you prefer to let the experts work their magic, then PikPerfect offers a breezy way to create your wedding album with no fuss.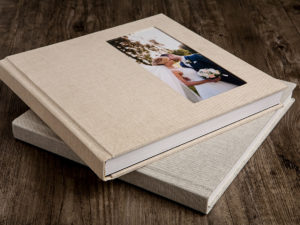 5. Capture the entire story
Aside from focusing on your favourite images and key moments (such as the ceremony kiss and cake cutting), you also want to include a variety of images that tell the entire story. A good photographer will have captured not only stunning portraits and key events but also detail shots of the decor you selected and candid moments of you, your family and friends throughout the day.
Remember that playful or comical photos will add character to your album, even if they were unplanned moments or even things that weren't meant to happen. A mixture of images will better reflect the atmosphere of your special day and how it was experienced through the eyes of you and your loved ones.
6. Lay out your images chronologically
While it's important to select a feature image for both the start and end of your album, the best way to present your wedding photos is in chronological order. Organise them into different parts of the day, such as the getting ready session, the ceremony and the reception to help create a flow as family and friends flick through to relive your special day.
7. Add the finishing touches
After your wedding album is complete, don't overlook the importance of protecting it in a hardcover presentation box to ensure it remains in pristine condition for many years to come. PikPerfect's beautiful wedding album boxes are handcrafted from high-quality linen or leatherette fabric while being custom made to perfectly match your album cover and size.

8. Create your album sooner, rather than later
Designing a wedding album is something that's easy to put off as you're whisked away on your honeymoon, use some great backdrops for wedding will get a perfect album!then return to the busy routine of work. But before you know it, you'll be searching for a new home or welcoming a baby into the world and creating a wedding album will keep getting put on the back burner.
So as soon as you receive your wedding photos, start the wedding album maker process while the day is still fresh in your memory. Then as the ups and downs of life take over, it will be there waiting and ready for you to relive the emotions and moments of your special day again and again.
If you've still got questions about making your own wedding album, don't hesitate to get in touch with PikPerfect's team of professionals. We'd be happy to help!