It's never too early to start planning Christmas presents, particularly if you want to gift something thoughtful like a custom-designed baby photo album or family photo book. It's an opportunity to celebrate the people in your life that mean the most to you and showcase the moments you've spent together over the last year.
That being said, photo album gifts take time to create, so it's not something you can leave to the last minute. Here at PikPerfect, we think October is the ideal time to start planning these treasured mementos so they're under the tree well before Christmas rolls around. It will give you plenty of time to make any revisions you need and will ensure your deliveries don't get held up in the inevitable Christmas shipping rush!
In this guide, we'll talk you through the steps you need to take to ensure your personalised photo albums are on track to be gifts your loved ones will never forget.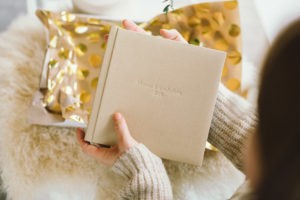 Who do you want to gift to and what do you want to gift?

Begin by making a list of all the people you want to create albums for and what kind of albums you want to gift. Perhaps it's a personalised parent copy of your wedding album for your parents and in-laws. Or maybe it's a baby photo album for your spouse featuring all your favourite moments from your child's first year. 
If you've been lucky enough to go on vacation, you could design a luxury travel photo album showcasing all your adventures to gift to your travel companion(s). For families, a hardcover photo book displaying all the milestones and events from the past year can be the ideal gift for grandparents or relatives living far away. 
Other people you may want to make your own photo book gift for include teachers, coworkers and neighbours – anyone who's made their mark on your year and deserves a thoughtful gift. There is no shortage of personalised photo book options to choose from. All you need is a little imagination and the time to make it happen!
Organise your photos

Once you have your list of gift recipients, it's time to start organising your photos. Chances are, your photos will be on multiple devices – your smartphone, computer or uploaded to social media. Collate them all in a single folder named after the recipient and begin sifting through the ones you want to use in your photo album project. 
Depending on the type of photo album you're making, this may be an easy task or a time-consuming one. Photos for a travel-themed photo album will be relatively straight forward to organise, with the images taken within a few days of one another. A family history book, on the other hand, might take considerable time as you collect old photographs, newspaper clippings and documents from various sources to tell the story of how your family came to be. 
Begin with the photo album project you know is going to be the most time-consuming and work towards the easiest, ensuring they're all ready in time for Christmas. And don't be worried about using the same images for multiple projects, particularly if they're going to recipients from different households.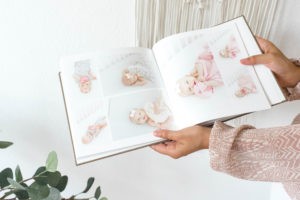 Decide which photo book is right for you
A photo book is a photo book, right? Wrong! There's a wide choice of photo albums and photo books available, from premium photo albums with layflat pages to hardcover photo books with the capacity to display up to 1,000 images. In addition, you can select various sizes and cover options, including genuine leather, linen or animal-friendly leatherette. 
For more details about the types of photo albums offered by PikPerfect, you can check out our blog Which photo album is best for you? It compares all the different options, as well as explaining some of the extras available, such as embossing, cameo windows and presentation boxes. The album or photo book that's right for you will depend on your budget for gifts and how many images you want to showcase.
Use an album design service or create a DIY album
There are different ways you can create your photo album online. You can be hands-on and design your own photo book with the help of pre-designed templates (Piktology is a great option for this) or take advantage of the experienced wedding album makers at PikPerfect and let them do the hard work for you.
PikPerfect's talented team will create a stunning photo album, drawing on your visions and incorporating the images you've selected. From two-page spreads to image collages, they'll use their professional skills and knowledge to design a visually appealing and engaging album that brings your memories to life. The service includes unlimited free revisions to ensure the finished product is exactly what you're after and an optional Photo Selection Service if you're having trouble deciding which images to include.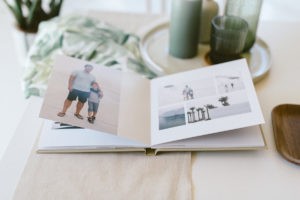 Be mindful of shipping deadlines

As you're creating your custom photo books and albums, it's important to keep in mind the cut-off dates for shipping to guarantee delivery before Christmas. Shipping companies get incredibly busy in the lead up to the festive season, so don't expect normal delivery times. Most businesses will indicate on their website the dates by which you need to order products for them to ensure they will arrive in time.
Thoughtful gifting
What do you give family members and friends who have everything? A keepsake of what they mean to you is the answer. Personalised photo albums are the ideal way to celebrate your relationship and the moments that have shaped it. So rather than giving your loved ones something they'll use once or will end up in the re-gifting box, plan ahead to create a thoughtful gift that they'll treasure for years to come.
If this article didn't answer your questions about planning a photo album gift for the holidays, send us an email at support@pikperfect and we'll get back to you!